Winter Wines To Keep You Warm And Just A Tad Fuzzy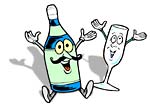 by Marjorie Dorfman

It's that time of year when the holidays are behind us, but the chill of winter hovers like an unpleasant cloud around every corner and window. The spring thaw is elusive and seems an ice age away. How to keep warm is the question at large. Inquiring minds want to know. Well, the answer may vary from person to person, but the following wines may help dispel that unpleasant chill that seeps through our bones and minds. Read on.


---

With the change of seasons comes an alteration in what we eat and drink as well. In colder times, most of us seek heartier foods like stews, heavy soups and pastas to stoke our body temperatures and placate our yins and yangs. The perfect wine for any season is not decided so much by its characteristics, but rather by how well those characteristics match the foods associated with the particular time of year.

According to Steve Fox of Richmond.com, the wines of Northern and Central Italy offer many fine choices for the season. Soave from the Veneto, Tuscany's Vernaccia di San Gimignano and Gavi from the Piemonte are whites that go perfectly with stews and roasts and such.



At one time, these wines, which are made from ancient grape varieties, were available only from one major supplier, Mastroberadino, and were very expensive. Although Mastroberadino remains the region's major supplier, other producers have developed less expensive and equally delicious facsimiles. These include The Greco di Tufu Serapis 2000 by Montesole and The Flano di Avellino 2000 by Marianna, both of which sell for about $15.00. Both of these wines are dry and crisp, the former delivering a flavor of apple and almond, and the latter one of pears and hazelnut.

If you prefer red wines, especially while eating poultry, rabbit or tomato-tart dishes, Barberas and Chiantis have good acidity and are excellent choices. Fruity, spicy Zinfandel (The Burton Napa Valley 2000, which costs about $18 bucks) also ranks high as a companion to most red meat selections.



So sit by the fire and relax with a glass of your favorite wine. Look out the window and feel sorry for anyone still out there trudging through the cold and snow and ice. Whether you prefer white or red, remember that the important thing is to stay warm. Like the words of that old song, "baby, it's cold outside!"



Did you know . . .



---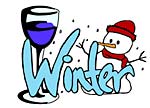 Check these reviews by Marjorie of interesting kitchen gadgets:

For those times when you don't feel bad enough to drink the whole bottle.

Vacuum Wine Bottle Stopper

Get a Grip on Reality and Citrus!

Good Grip Lemon Zester


A special offer:
Really works!!

Special page about Weight Watchers here.

---
Don't miss this excellent book:


Wine, Food and Friends

by Karen MacNeil


Wine and cooking enthusiasts will know immediately that they have uncorked something truly magical with this book which combines the culinary expertise of Cooking Light with the wine connoisseurship of Karen MacNeil, today's preeminent wine authority. Award-winning author, lecturer, and television personality, Karen is a champion when it comes to the enjoyment of food and wine, which she summarizes in The Ten Principles of Matching Wine and Food. A must for wine lovers! 30 top-rated menus and recipes with wine recommendations for every season.
---